Maxxine Wright Early Care & Learning Centre
enjoy a virtual tour of maxxine wright early care & learning Centre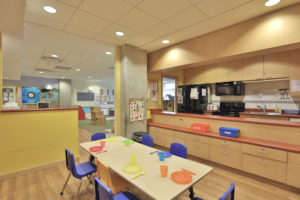 ABOUT
Maxxine Wright Early Care & Learning Centre is located just off the King George Highway on 92nd Avenue in Surrey. It is in the heart of Surrey making it easily accessible by public transit or private transportation. The center caters to children aged 0-5 years of age as we have an infant, toddler and 3-5 program. We are also to able to accommodate full and part-time care as long as it is within the minimum 2 day/week requirement. We also accept subsidy applications.
Maxxine Wright Early Care & Learning Centre is one of the selected prototype sites by the BC Government and provides $10/day childcare.
Spaces offered:
12 Infant spaces (under 18 months)
12 Toddler spaces (18-36 months)
25 3-5 year-old spaces
CURRICULUM
At Atira, we use an emergent curriculum, a play-based model that helps with school readiness. The emergent curriculum allows our educators to plan activities and programs based on the children's interests and skill sets of the children enrolled at the time. Atira's Early Childhood Educators take into consideration the environment within the programs and have small learning groups to keep children engaged. It is a collaborative approach between the children who initiate the process and the educators who know what is necessary for children's education and development. Educators discuss what is observed in the classrooms and come up with plans and ideas around what to implement next. Some interests last one day, some can last months. Atira early year centers include the following learning areas in all lesson plans:
Language and Literacy
Art
Physical, Social and Emotional Development
Science
Mathematics
Social Studies
To learn more about emergent curriculum, please visit: https://en.wikipedia.org/wiki/Emergent_curriculum
fees ($10/day Prototype Site)
Infant/toddler program
3-5 years
5 days a week
$200.00
5 days a week
$200.00
4 days a week
$160.00
4 days a week
$160.00
3 days a week
$120.00
3 days a week
$120.00
2 days a week
$80.00
2 days a week
$80.00
*Currently, $10/day under the protype site contract with the Ministry of Child and Family Development.
Application & Waitlist
Inquire now for availability.
Location
13733 92nd Avenue in Surrey
Time
Monday - Friday, 7:30am - 6:00pm. We are closed most stat holidays