Blog
Overdose Prevention and Resources
To honour International Overdose Awareness Day, we are spending the week sharing information on the alarming overdose crisis, harm reduction, resources in your area, and how to support. This is now more important than ever. Everyday is a time to remember, and a time to act.
PREVENTABLE OVERDOSE DEATHS CONTINUE TO CLIMB.
While the overdose crisis was declared a public health emergency in 2016, people in the province continue to die by illicit substances at an alarming rate. Between January and June of this year, 1,011 people died from suspected illicit substances, the highest ever recorded in the first six months of a calendar year, an overall increase of 34% from the previous year.
While the country continues to struggle with high rates of preventable overdose deaths, the COVID-19 pandemic has only exacerbated the crisis, as communities experience heightened struggles of stress, mental wellness, isolation and lack of available support services for people who use. Border closures have also attributed to the overall toxicity of substances, creating opportunities to manufacture more toxic supply, including fentanyl and carfentanil.
WHAT CHANGES CAN PREVENT DEATHS?
Advocates in the province have long been pushing for decriminalizing simple possession of illicit substances to help reduce stigma, lower the risk of toxic substances circulating, and increase access to services and treatment. The City of Vancouver is currently seeking federal exemption to decriminalize simple possession.
The province currently allows doctors, nurse practitioners, registered nurses and registered psychiatric nurses to prescribe pharmaceutical alternatives to street illicit substances in the hopes of separating people who use from the poisoned street supply. While this move is a step in the right direction, more needs to be done to expand access to these alternatives.
WHAT SUPPORT SERVICES ARE AVAILABLE?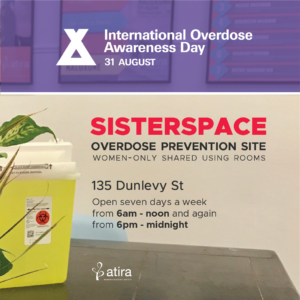 Overdose prevention sites and supervised consumption services across British Columbia provide on-site monitoring for people who may be at risk of overdosing, with access to various levels of support, treatment, substance testing, harm reduction supplies, and Take Home Naloxone kits.
Atira currently operates SisterSpace and SisterSquare, two women-only community accessible overdose prevention sites in the Downtown Eastside where women, including transwomen, two-spirit and cisgender, can access witnessed staff and peer-supported safe injection spaces. Since the opening of both sites, no deaths have been reported.
Find out where to find overdose prevention sites and substance testing in your area.
WHAT ELSE CAN I DO TO SUPPORT PEOPLE WHO USE SUBSTANCES?
---
If you need support, contact us at
604-681-4437

or call our 24/7 call-in support line at

604-800-8881

.
Be a part of our community and stay in touch!