Bette's Boutique
About
Bette's Boutique offers women in Vancouver's Downtown Eastside a dignified place to "shop" for clothing, household items, kids clothing and toys; and to access food hampers, all for free. Open seven days a week from 9am to 11pm, Bette's also offers respite space with tables, chairs, tea/coffee and snacks, where women can come in to rest, use an indoor washroom and access services like housing support, stopping the violence counselling, and make appointments with our Legal Advocacy Program staff.
Bette's is staffed by one support worker and two peer staff at all times. Peer staff are women with lived expertise who live in the community and who may have multiple barriers to traditional employment. By offering employment through peer positions, we are able to provide women with an opportunity to earn income safely, learn new skills and if applicable, provide training for future employment opportunities.
Impact
By providing women with physical, emotional and material support, Bette's Boutique can improve the lives of the women it serves. Safe, dignified access to clean, seasonally appropriate clothing, home goods, and food for women and their children can result in both short and long-term benefits. With over 450 visits to the Boutique each week, it is clear there is an urgent need for safe and free access to these items among the Downtown Eastside community. Bette's Boutique also positively impacts women served by increasing their ability to access supportive housing, legal services, counselling, and other important resources, both at Atira and in the community.
Bette's Boutique is capable of making a long-lasting and sustainable difference in the lives of the women it serves. Although many women first visited Bette's to "shop," the Boutique has become a safe place for women to seek refuge, rest, and access support services. As awareness of Bette's continues to spread among the community, the potential community impact continues to grow. Keeping the Boutique open and funded will allow Atira to continue creating space and opportunity for women to make lasting impacts in their lives.
Name
We are thrilled to name this incredible space after the late Bette Durrant, one of Atira's first volunteers who for more than 20 years focused her volunteer efforts on finding, collecting, washing, mending and dropping off donations to Atira's first transition house – now called Durrant Transition House for Women. Bette taught us all how important it is for women to have what they need to start fresh and how impactful good quality and thoughtful donations can be in the lives of women and their children. We are forever grateful for Bette's determination, dedication and commitment to collecting donations for women who need them. With thanks to Bette's children and grandchildren, we are paying her work forward.
---
donations
If you are interested in making a donation, we are currently looking for the following items:
Backpacks/bags (highly requested)
Hygiene packs/products (toothpaste, toothbrushes, shampoo conditioner, body wash, soap – hotel size is great too)
Coats and jackets (rain, wind breakers and heavier ones for nighttime – please be mindful of season)
Jewellery/make-up/hair products
Women's clothing and shoes (all sizes from XS – XXXL)
New socks and undergarments (panties and bras – will take gently used bras)
Children's toys and games
Children's clothes (can take men's clothes that would fit teenage boys, but not a ton)
Tampons/pads (mostly tampons requested)
Craft supplies (colouring books, felt pens, crayons, craft paper etc)
School supplies for kids (all ages)
---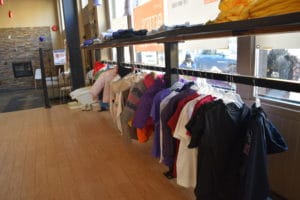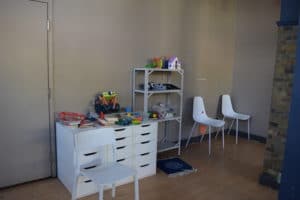 Location
305 Main St, Vancouver, BC V6A 1K9